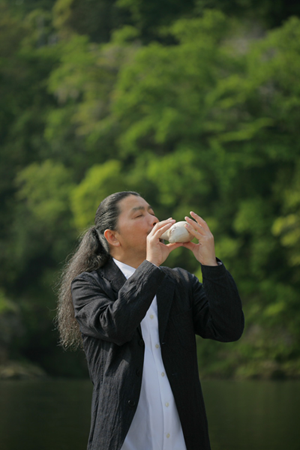 Sojiro, the great ceramic ocarina player, was born in Tatebayashi city, Gunma prefecture.
He was attracted by the sound of the ocarina, which he heard for the first time in 1975.
Since then, he started making his own ocarina, and for ten years until 1985, he made ten-thousand ocarina.
Among them, searching for his own sound, he selected ten-odd ocarina, which he still uses when playing.
He made his record debut in 1985, and was thrown into the limelight by an NHK special program "The Great Yellow River" in 1986, gaining his position as a popular artist.
From then on, he has released original albums every year, holding uncountable concerts and events. In 1993, an album in three parts--"Kidou", "Fuuto", and "Suishin", --won "Planning award" of the 35th Japan Record Award.
He wishes to continue his concerts, compositions and creative activities, always being deeply related with nature and the earth, cherishing communication with the earth. His numerous original albums include "Ayumi", "Orion", "The Quiet Earth" and others. He also released the series "Ocarina Etude", which includes classics and famous Japanese and worldwide music.